After Khanh Hoa PC announced the purchase of solar power from households, the number of people registering to install solar power system increased. In particular, in the context of rising electricity prices, the risk of power shortages is increasing, the need to install solar power systems on the roof becomes more and more urgent.
Before April 2016, the province only had nearly 70 households using solar electricity installed on the roof, from mid-April to now has up to 120 households and many projects are under construction. Some families have installed solar power systems on the roof before, now also consider the plan to continue to expand the solar power system to increase capacity.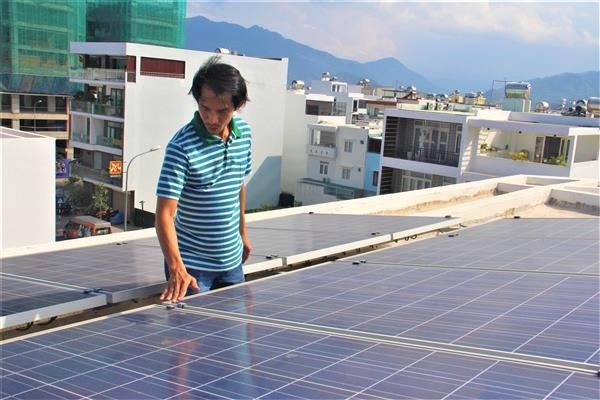 Mr. Luong Bao Toan (Lot 92, A4 Street, Phuoc Hai Urban Area, Nha Trang City) said that two years ago, his family installed 8 solar panels with a total area of ​​16m² at a cost of 70 million. copper; These panels provide families with 300kWh of electricity / month, saving electricity from 700,000 to 1 million / month. With investment for this system, about 6 years, his family will recover capital while the device is warranted for 12 years and life cycle of up to 25 years. "Currently, the installation price has been greatly reduced, along with the battery area that my family has installed, now only about 50 million VND. Therefore, in the near future, I will install more to sell electricity, consider this as an investment form and prevent the family's capacity to increase electricity use, "Toan said.
Mr. Bui Huy Hieu – Director of Nha Trang Branch Bach Khoa Solar Investment and Development Joint Stock Company (Solar BK) said: "Since the electricity price has increased, especially when PC Khanh Hoa officially buying electricity, the number of customers installing solar power systems skyrocketed. Particularly at Solar BK, Nha Trang branch has increased by more than 30%. In the coming time, the number of customers is forecast to increase much. According to Mr. Hieu, in addition to households, there are now many manufacturing enterprises that have used factory roof systems to install roof solar power to reduce energy costs. Solar BK Nha Trang Branch is completing a number of attic solar power projects in industrial clusters: Dien Phu and Dac Loc, which are expected to be completed and integrated into the grid in May 2019.
At this time, enterprises providing solar battery installation services also offer many preferential programs on insurance and capital for households. After-sales policies are focused by renewable energy installation units. According to a representative of Solar BK Company, this company cooperates with Vietnam Insurance Investment Bank (BIC) to install solar power system to provide electricity output insurance package.
Within 5 years, if the power output is not enough to return the initial investment, the customer will be refunded the investment by the insurer. Within 25 years, the solar cell supplier is also committed to ensuring that the battery's electricity production efficiency reaches at least 80%. In addition, the company also cooperates with the Bank for Investment and Development of Vietnam to support customers to install solar power loans from 12 to 36 months with a loan approval rate of up to 70%.
            Track information using solar electricity by App on the phone
On the side of Khanh Hoa PC, the unit also created conditions for people to install solar electricity. After the system is completed, families will be supported to install a two-way meter. With the smart phone tracking electrical indicators automatically recorded by the software, all parameters of the electricity produced in the day, month and total electricity produced by the system are "reported" every day. for families to control electricity consumption. Residents of electricity production are eligible to sign contracts to sell electricity to Khanh Hoa PC. Currently, the province has 81 households signed power purchase contracts.
Mr. Nguyen Cao Ky – General Director of Khanh Hoa PC said: "Electricity industry encourages people to install solar power on the roof and create conditions for people to sell electricity. We have implemented procedures to connect, install bidirectional meters and buy electricity from solar power projects of households connected to the low voltage grid according to the one-stop mechanism. The electricity units must advise investors to choose the installation of photovoltaic panels, AC power converters to ensure investment efficiency.
Source: pckhanhhoa.cpc.vn